In this post, we will show how to fix error codes P-DEV313 and P-DEV320 on Hulu on your device.
Hulu Error Code P-DEV313 is a playback error that interrupts the streaming experience. Here is the error message you get along with this error code:
We're having trouble playing this
Rest assured, we're working on it. In the meantime, it may help if you restart the video.
Hulu Error Code: P-DEV313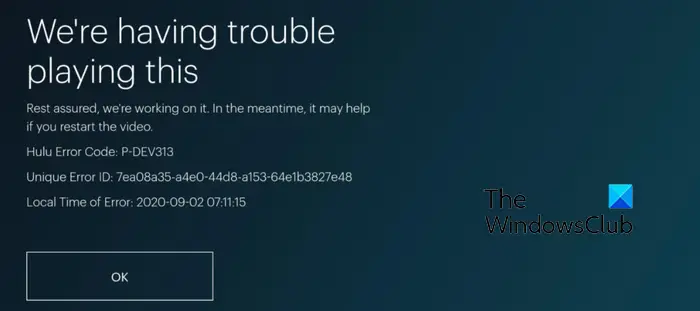 P-DEV322 is another playback error code that is similar to the error code P-DEV313.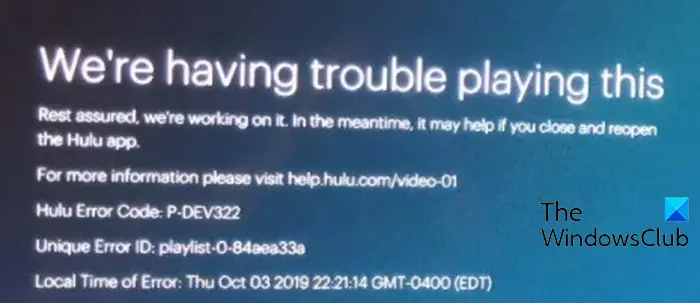 Why does Hulu keep saying We're having trouble playing this?
The common reasons why Hulu is having trouble playing a video include server problems and network issues. Besides that, a corrupted app cache can be another reason for the same.
Fix Hulu Error Code P-DEV313 and P-DEV322
As the error message indicates, you can try reloading the video and check if the error is resolved. Additionally, ensure you are running the latest version of Chrome, Edge, or your browser. If this does not help, here are the solutions you can use to fix the error:
Check for server issues.
Check for internet connectivity issues.
Power cycle your device.
Reset your network.
Reset your password.
Enable JavaScript and cookies in your web browser, if applicable.
Reinstall the channel.
Make sure your device and Hulu app are up-to-date.
Clear your Hulu app cache
Reinstall the Hulu app.
1] Check for server issues
The error code P-DEV313 or P-DEV322 could result from an ongoing server issue at the end of Hulu. Hence, it's advisable to verify the server status before applying advanced fixes. You can use a free online server status checker tool like Downdetector.com, Isitdownrightnow.com, etc. to check if Hulu servers are down or not.
2] Check for internet connectivity issues
Another reason for this error is the internet connectivity issue. Hence, make sure your internet is working fine. As per Hulu recommendations, you need an internet connection with 3 Mbps for Hulu's Streaming Library, 8 Mbps for live streams, and 16 Mbps for 4K content. So, make sure your internet connection meets these criteria to stream content. If not, you can upgrade the internet plan.
You can also try contacting your ISP and see if they can help you out with connectivity issues.
3] Power cycle your device
The first thing you can do to fix this error is to perform a power cycle on your device such as a PC, RokuTV, Xbox console, etc. Just shut down your device, unplug it, leave it unplugged for about 30-60 seconds, plug it back in, and restart it to check if the error is resolved.
4] Reset your network
Some affected users reported that completely resetting their network helped them fix the error. So, you can also try doing the same and check if the error is resolved. To do so, make sure your router is plugged in and locate the Reset button in your router. You can then insert a paperclip into the hole and hold it for 30 seconds. After that, release the button and let the router reset. When done, try reconnecting to the internet and check if the error P-DEV313 on Hulu is fixed.
5] Reset your password
You can try changing your Hulu password and then log in again with the new password to check if the error is fixed. Here are the steps to do that:
First, open a web browser and log in to Hulu.
Next, move to the Account section and select the CHANGE PASSWORD option.
Now, type in your current password and then enter the new password as prompted.
Also, tick the Log me out of other computers checkbox.
After that, press the Save changes button.
Once done, log in to Hulu on your primary streaming device and try watching your favorite content.
See: Fix Hulu Errors 3, 5, 16, 400, 500, 50003.
6] Enable JavaScript and cookies in your web browser, if applicable
If you are getting this error in a web browser on a PC, check if you have JavaScript and cookies enabled or not. You must enable these two functions to stream Hulu in a web browser. So, if the scenario is applicable, enable JavaScript and cookies in your web browser to fix the error.
Here's how to enable JavaScript and cookies in Google Chrome:
First, open Chrome, press the three-dot menu button, and select the Settings option.
After that, move to the Privacy and security tab from the left-side panel and choose the Site settings option.
Now, click on the JavaScript option and then make sure the Sites can use JavaScript radio button is selected.
Next, go back to the Privacy and security tab and choose the Third-party cookies option.
Then, select either Allow all cookies or Block third party cookies in Incognito mode.
Once done, you can try reloading the Hulu page and see if the error is gone.
Similarly, you can enable JavaScript and cookies in Edge and other web browsers.
See: How to Fix Hulu Error Code Runtime 2 and 5?
7] Reinstall the channel
Some users have reported that reinstalling the problematic channel on Hulu helped them fix the error. So, you can also delete the channel, perform a system restart, reopen Hulu, and then reinstall the channel to check if the error is fixed.
8] Make sure your device and Hulu app are up-to-date
If your Hulu app is outdated, you might face this error. So, make sure you are using the latest version of Hulu on your device to avoid error code P-DEV320.
9] Clear your Hulu app cache
A corrupted app cache can very well be a reason behind this error. So, clear the Hulu app cache to fix the error. Here's how:
Xbox One:
First, press the Xbox button on your controller and go to My Games and Apps.
Next, highlight the Hulu app.
Now, press the Menu button on your controller.
After that, click on the Manage Apps > Clear saved data option.
Once done, reopen the Hulu app and check if the error is fixed.
Android:
First, press and hold the Hulu app icon from the home screen.
Now, select the i button and then go to the Storage section.
Next, click on the Clear cache button.
Once done, reopen the app and see if the error is gone.
Windows:
You can clear the cache from your web browser and see if it helps.
Read: Fix Hulu Error Code P-TS207 or P-EDU125.
10] Reinstall the Hulu app
If the error remains the same, you can uninstall and then reinstall the app on your device.
I hope this helps!
What does error code P DEV340 mean on Hulu?
The error code P-DEV340 is a playback error on Hulu. It indicates that there is an issue with your device or you are facing internet connectivity problems. If you get this error, you can restart the video, make sure your device is well connected to the internet, and your Hulu app is up-to-date. You can also try clearing the Hulu app cache on your device to resolve this error.
Now read: Fix Hulu Errors RUNUNK13, Error playing video OR 406, Not Acceptable.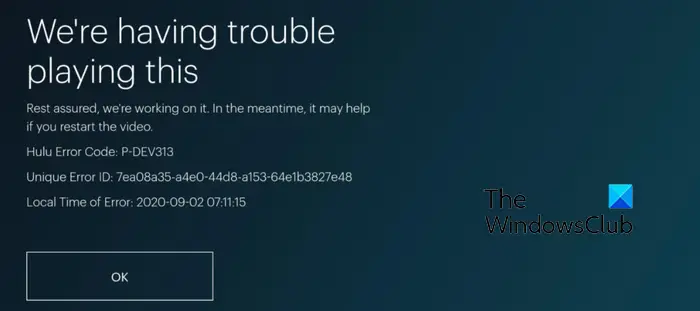 Source link

www.thewindowsclub.com