This post features solutions to fix the error code 106133 in Origin and EA App. The error occurs when launching the Origin or EA app or any related game. The complete error message reads:
"error": "UPSTREAM_SERVICE_UNAVAILABLE", "error_description": "UPSTREAM SERVICE UNAVAILABLE", "code": 106133
Fortunately, you can follow some suggestions to fix it.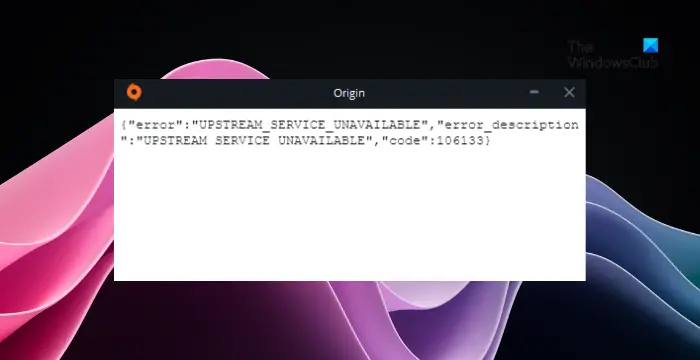 What causes error code 106133 in EA Origin?
UPSTREAM SERVICE UNAVAILABLE, Code 106113 message appears if Steam or the EA game server is down. To get around this issue, launch Steam in Offline mode and then, when asked, sign into Origin when you launch the game. You may have to wait until the game servers are Up again.
UPSTREAM SERVICE UNAVAILABLE, Error Code 106133 in Origin and EA App
Follow these suggestions to fix the error code 106133 in the Origin and EA app:
Check your Internet Connection
Check EA Servers
Run Steam in Offline Mode
Clear the App Cache
Allow Origin and EA through the Firewall
Now, let's see these in detail.
1] Check your Internet Connection
Before you start troubleshooting, check if you're connected to a fast and stable internet connection. The error code 106133 in Origin and EA App can occur if you don't have a good internet connection. Running a speed test will check your internet connection. However, if the speed comes to be stable, restart your router or contact your service provider.
2] Check EA Servers
Next, check the EA Games server status; the game's servers may be under maintenance. You can also follow @EAHelp on Z (Twitter) to check if they've posted about ongoing maintenance. If many people have the same issue, the server may face downtime.
3] Run Steam in Offline Mode
If the error code 106133 occurs when running EA Origin games on Steam, try running Steam in offline mode and sign into Origin when asked. Offline Mode allows playing games via Steam without a connection with the Steam Network. This feature is useful when you have limited or no internet access. Here's how you can turn on Steam offline mode:
Click on Steam and select Go Offline.
A message will appear that explains what you're about to do.
Click on Enter Offline Mode option.
4] Clear the App Cache
The error code 106133 in Origin and EA App can also occur if the cache data is corrupted. This data is not essential for the app's functionality but can helps enhance its performance and user experience. Clear the app cache data and see if the error's fixed. Here's how:
For EA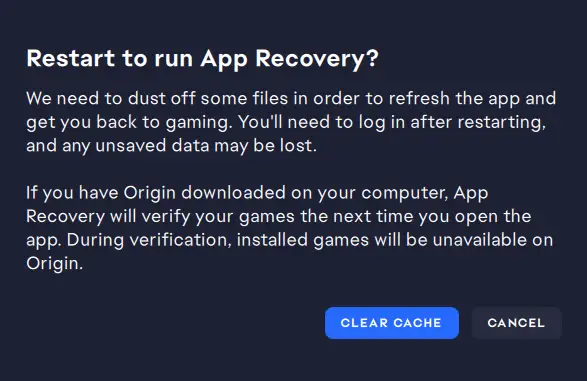 Click on Start, search EA, and select Open file location.
Here, double-click on App Recovery and select Clear Cache on the screen that appears.
For Origin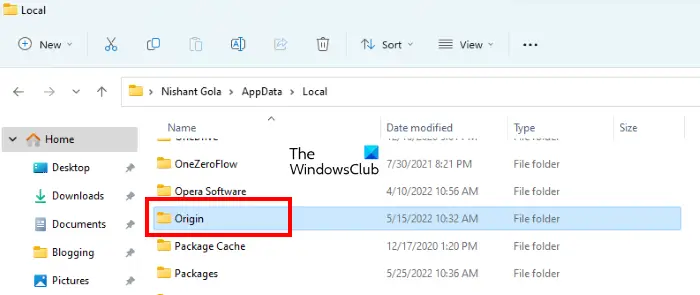 Press Windows + E to open File Explorer and navigate to the following path:

C:\Users\Denis\AppData\Local\Origin

Press Ctrl + A to select all the files and then Shilt + Del to permanently delete them.
5] Allow Origin and EA through the Firewall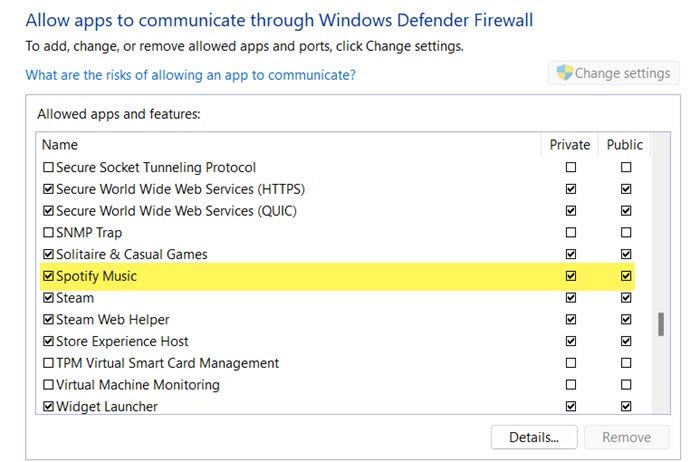 The Windows Firewall is a security feature that offers protection against unauthorized access and potential threats from the internet or local networks. However, it can sometimes interfere with the game's processes and make them malfunction. Making some exceptions in Windows Firewall can help fix this error on the EA and Origin app. Here's how:
Press the Windows + I keys to open Settings.
Navigate to Privacy & Security > Windows Security > Firewall & network protection.
In the Firewall tab, click on Allow an app through firewall.
On the next page, click on Change settings and select Allow another app.
On the Allowed apps window, locate EA or Origin and check the Private and Public boxes.
Read: Origin keeps verifying game files on Windows PC
I hope these suggestions help you.
What is error code 14 7 Origin?
The error code 14 7 in the Origin app indicates that a connectivity issue is preventing the software from accessing the internet. To fix this, check if you're connected to a stable internet connection and disable antivirus or security software.
Why can't I login to EA or Origin?
If you can't login to EA or the Origin app, check the server status and if you're entering the correct account credentials. However, it can also occur if a firewall or antivirus blocks Origin or EA's login process or your account is deactivated or blocked.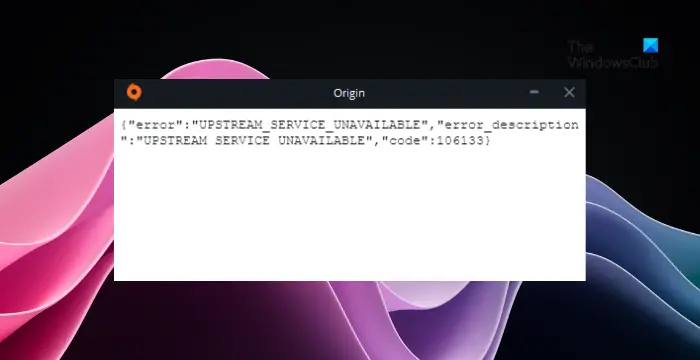 Source link

www.thewindowsclub.com