In this guide, we explain what is .FH file format on Windows. There are different file formats we see on Windows. We see many file formats in the same category. For example, if we take the image category, we see JPG, PNG, GIF, WebP, etc. For audio and video, many categories vary in compression and quality.  These all are basic formats we see daily and use regularly. Sometimes, we see different file formats that we have never seen. We don't even find a program on our PC to open such formats.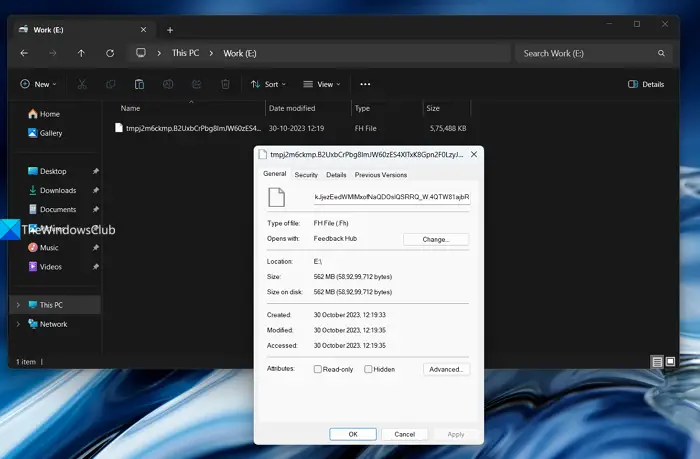 What is .FH file format on Windows?
Some Windows 11 users are seeing .FH file created on one of the local drives with a size ranging from 500MB to 1GB. When you right-click on the file and select Properties, it is seen as .FH file that can be opened with Feedback Hub that comes pre-installed with Windows 11/10.
The file is created after the users have uninstalled the Feedback Hub from their Windows 11/10 PC. Every PC on which the Feedback Hub is uninstalled might not have .FH file created on one of its drives. There are instances when you uninstall some Microsoft programs that come pre-installed with the Windows OS. Such kinds of files are created with different file types that cannot be opened with any of the available programs.
Personally, I have seen those kinds of files after uninstalling the programs, which I consider bloatware using BCUninstaller. Antivirus programs or Microsoft Defender have not flagged any of them. They are seen when we open local drives.
It is safe to remove .FH files that seem like remnants of Feedback Hub once you have uninstalled Feedback Hub from your Windows PC. You can permanently delete it. If it is being used by your System, you might see a UAC warning before the deletion.
Other kinds of files with .FH file extension
We cannot treat every file with .FH file extension as a remnant of Feedback Hub after its removal. If you find such files on your PC, right-click on the file and select Properties to see the file details. You might know what kind of file it is from its properties.
If you use the Adobe FreeHand program (discontinued in 2003), a vector graphics editor, you can see .fh files as the files from that program are saved in that format. There is a zero chance you might have used the Adobe FreeHand program on a Windows PC, as it has been replaced with Adobe Illustrator. The only possibility of having such files on your PC is backup files from your old drives from years ago.
If you have used Backup Exec by Veritas to back up your business data, you might see .FH file as its file history file. In such a case, you should not delete the file as you may lose your business data along with it.
Only in these three situations, you can see .FH files on your Windows PC. To be safe, first scan the files you see with unknown file extensions with Microsoft Defender or any antivirus you have on your PC.
Also read: How to open file with no extension in Windows
How do I view file extensions?
To view file extensions, right-click on the file and select Properties. You will see the file extension beside the Type of file. Also, you can just click on the Details pane in the Explorer and select Type to display the Type of file beside all the files in the Explorer.
How to change file type?
To change file type on Windows, you need to open the file in its supported program and Save it in the formats the program supports. Or you can just use file conversion programs or online tools to convert the file and change types.
Related read: Set or Change File Associations & Extensions in Windows.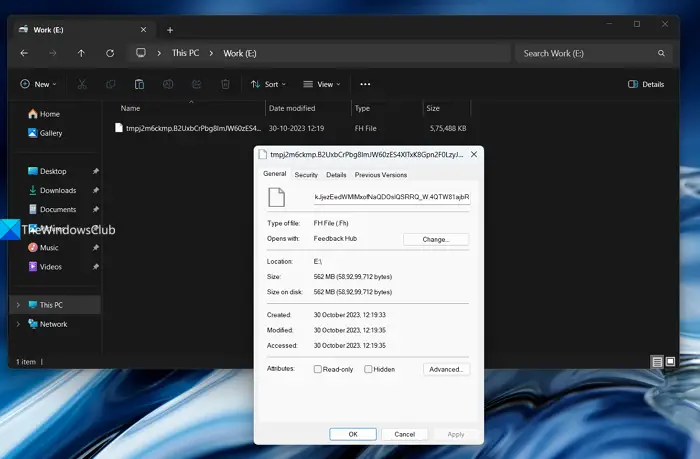 Source link

www.thewindowsclub.com