In this post, we will learn how to block ads on Peacock TV. So, if you want Peacock without commercials, this post is for you.
How to block Ads on Peacock TV
There are various benefits of watching Peacock without commercials, the obvious one being that there will be not much interruption. However, there are some not-so-obvious perks as well, including less battery and data drainage. Now that we know what we will get by removing commercials from Peacock let us see how to do the same.
You can block ads on Peacock TV using one of the following methods.
Get the Peacock Premium Plus subscription
Install an ad blocker
Use the Peacock TV extension
Use DNS services to block ads
Let us talk about them in detail.
1] Get the Peacock Premium Plus subscription
Peacock Premium Plus plan does not show a lot of ads, which is not the case with standard and even Premium plans. However, one needs to keep in mind that due to streaming right, you might find some ads here and there. We recommend this method as this will result in a win-win situation for both.
2] Install an ad blocker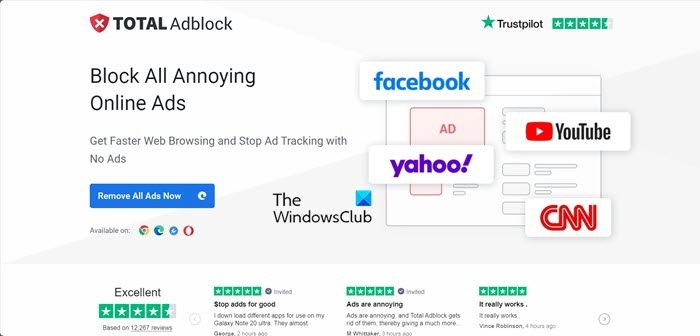 There are various ad blockers in the market, but we suggest TotalAdBlock. You can download and install the extension to any browser of your choice and then open Peacock. It will block all the ads coming your way.
3] Use Peacock TV Skipper extension
Peacock TV Skipper is an extension that automatically skips an ad as soon as it appears. However, it is just not an average ad blocker. It also skips intros and recaps and allows you to go to the next episode easily. All you need to do is install the Peacock TV Skipper extension on your browser and use it. To do the same, go to chrome.google.com and install the extension.
4] Use DNS services to block ads
If you watch Peacock on a smart TV, your best bet is to use a DNS service to block ads. You can use services such as AdGuard to block ads on devices that do not support ad blockers. One needs to remember that they can be a little less effective than a normal ad blocker as they mostly work on the network level.
Thus, you can easily block ads using one of the above-mentioned methods.
Read: How to block Adult websites in Windows using DNS Services?
How do I get no ads on Peacock TV?
If you go for free or even a Premium subscription to Peacock TV, you will see ads. However, one needs to subscript to the Premium Plus subscription to watch Peacock without commercials, even then, you will see some ads. That is why, you need to go for an ad blocker as mentioned earlier in this post.
Read: How to stop annoying Temu ads everywhere?
Why am I getting ads on Peacock TV?
Premium and Free subscribers will get ads on Peacock TV as that's the model of the service. Premium Plus subscribers will see fewer ads, however, due to the obligations of streaming rights, there will be some ads.
Read Next: Yandex DNS Review: Faster, More Secure Internet with Controls.


Source link

www.thewindowsclub.com