Communication between devices is one of the leading factors in an organization's productivity and efficiency. Currently, there are two such contenders in this market: Intel Unison and Microsoft Phone Link that are standing steadfast to provide their services. In this article, we will compare Intel Unison and Microsoft Phone Link based on some important parameters.
Intel Unison vs Phone Link compared
We will compare Intel Unison and Microsoft Phone Link based on the following parameters:
Files Transfer
Photo gallery access
Universal clipboard
Pairing
Calling facility
Let's start with an in-depth analysis of the above-mentioned sectors.
1] Files Transfer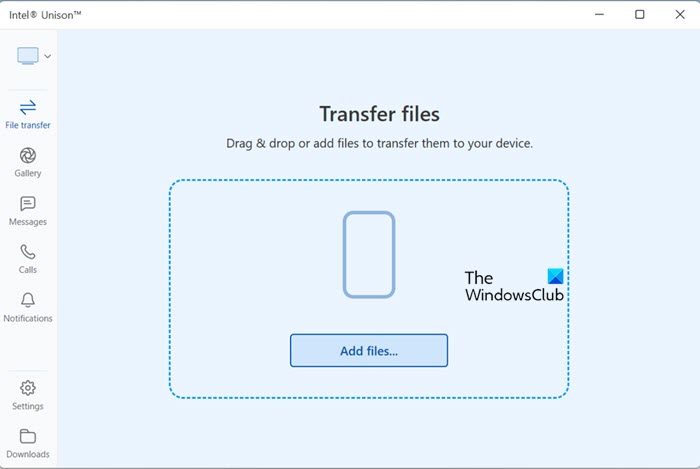 Phone Link, when it comes to file transferring, demands extra mileage from the users. We are saying this because the app asks permission whenever a user wants to link the devices. On the other hand, it's quite easy to work on the Unison app, as it only requires one-time permission to continue with its job.
In the Phone link, the users will have to reconnect Bluetooth after every new photo; however, this doesn't apply to Unison, as pictures instantly upload on the app. Users can share small files without the need for a USB cable. However, USB cables are recommended when dealing with large files.
2] Photo Gallery Access
Phone Link and Intel Unison both demand access to the Gallery; however, both options work differently and come with their own features. But here, Unison seems to win the competition.
One of the major drawbacks of the Phone Link app is that it only allows sharing pictures taken from the phone, and on top of that, it only keeps track of recently taken 2000 photos. Unlike Phone Link, Intel Unison is liberating in a way that allows transferring pictures to the phone from the gallery.
Read: How to record mobile screen on PC via Phone Link in Windows 11?
3] Universal clipboard
Who doesn't know about Apple's ability to transport text and pictures between their devices? I'm sure everyone is familiar with this easy transfer; however, no one knows that Phone Link has made this possible for Android as well. Using this, users can easily move text and pictures between certain Android phones and Windows devices.
Here, Unison gets defeated despite some claims earlier about having this feature. Many users have tested this, and they found out this is a false claim.
Read: How to Copy & Paste Clipboard text from one computer to another?
4] Pairing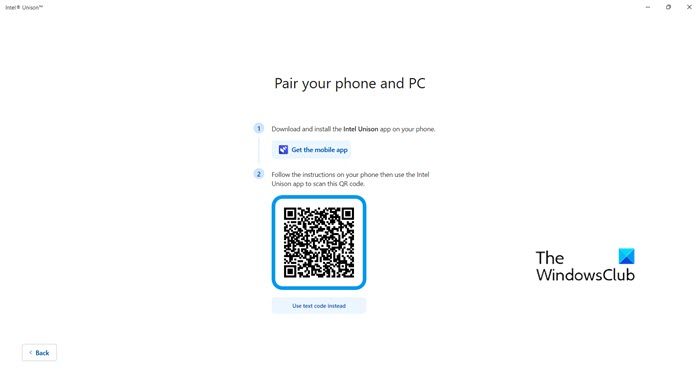 In this aspect, both the apps function similarly with different approaches. For example, in Intel Unison, users can pair devices by just downloading the app and then scanning the QR codes. On the other hand, using the Phone Link requires users to log in to their Microsoft accounts on different devices and then start pairing their devices.
Yes, pairing the devices on Intel Unison does seem easier and faster. However, the Phone Link app seems to provide better security for the data.
5] Calling facility
Both apps work similarly when it comes to answering calls and getting messages; the only thing they need is your permission. Users here can either respond to those messages from the app or through the pop-up messages on the Windows computer. Users will get an additional feature on Phone Link where they can keep important messages visible. Other than this, everything is the same. Making the call through the built-in microphone and speaker or through headphones is also one of the shared features of Phone Link and Unison.
Conclusion
There is no obvious shortcoming in either of the two apps. However, Phone Link has taken advantage of it being a Microsoft feature, the major one being the Universal clipboard. Intel Unison, on the other hand, tried making its feature more efficient. For example, Phone link users need to reconnect Bluetooth after every new photo, whereas, in Unison, pictures instantly upload on the app.
Hopefully, now you have an idea which is good for you. In case you are still unsure, download and use both apps. Since they are free, the only thing you will be investing is your time, and it will be worth it.
Read: How to send Text Message or SMS using Phone Link?
Does Intel Unison support Windows 11?
Intel Unison does require some prerequisites to work smoothly, and to clear all the doubts, we have mentioned them below:
A laptop with an 11th or higher generation Intel Evo CPU
Intel Unison only works on Windows 11, not even Windows 10 seems to handle the app very well.
Well-working Internet connection
Another additional device
Make sure you have all the mentioned prerequisites for a smooth experience.
Read: Phone Link app not working or will not open on Windows
How does Intel Unison work?
First, users must download the Unison app for Windows, iOS, and Android. Once installed on the PC, enable Bluetooth on the PC as well as on another device, and make sure that they are connected to the Internet with a high network speed. If you want to set up the devices, check our guide on how to install and configure Intel Unison on PC and Phone.
Read Next: Fix Intel Unison is working on Windows 11.


Source link

www.thewindowsclub.com