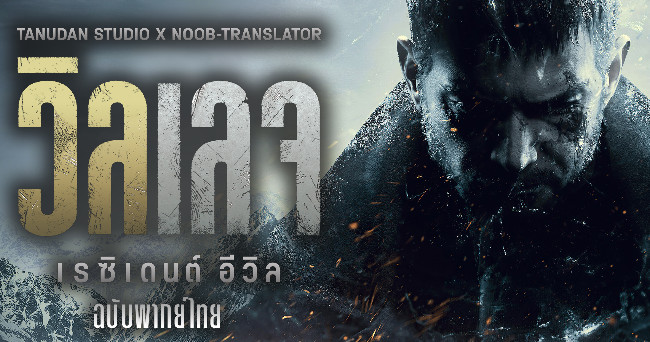 Sunday, July 2, 2023, 2:32:44 PM, Indochina time

released according to the appointment without twisting By a few hours ago on the fan page of Noob-translator released an announcement mod of the Thai dubbed voice for the dubbed game of the famous series like Resident Evil Village After the development team announced mod Thai dubbed for almost a year
for body mod It will be open for those who are interested to enter. download Come and use it for free, unconditionally. In addition to the Thai dubbed voice 100% then inside mod There are also Thai translations in other parts added, whether
one mod will support both the main game and additional content shadow of roses and mode mercenary
Improved the Thai text in the menu section of various documents from the original version. Thai subtitles are partially edited.
Translate some signs and scenes in the game into Thai language.
If you feel that the voiceover is too loud That was our intention anyway. The volume of voiceovers can be adjusted in the game's options menu.
for the installation process mod Thai language has a process that is not too chaotic. The details are as follows.
download the program Manager Mod FluffyQuack
After that download the file. mod Thai language of the game that needs to be installed
Create a new folder where it's easy to find. and extract the file modmanager.rar and enter the program Modmanager.exe
bring the file mod Downloaded Thai language to place in the folder of the program, for example

want to go down mod the game Resident Evil 4 Remake to put it in \Games\RE4R\Mods\

back to the program Modmanager.exe press the button Refresh mod list name will appear mod up
Install and play right away.
**Caution** don't forget Mod Manager Update Make it the latest version before posting. mod And if going down mod Others join, let down. mod Thai is the last otherwise the Thai language will be
The project of this mod dubbed is a collaboration between a famous modder like Noob-Translator. who have worked with various voice actors and famous voice actors like Tanudan and of course, releasing this work of theirs is not the first collaboration because in the previous way Noob-Translator and Tanudan used to work together to release Thai dubbing to fix the game. Resident Evil 2 and Resident Evil 3 come before
Finally, the game Resident Evil Village The price is currently on sale within the website. steam up to 50% with only the remaining price 644.50 baht including body downloadable content at Resident Evil Village – Winter Expansion is currently discounting up to 25% and the price is only 479.25 only


Source link

www.4gamers.co.th