The revolution that Wordle brought about has brought dozens of similar and equally interesting games.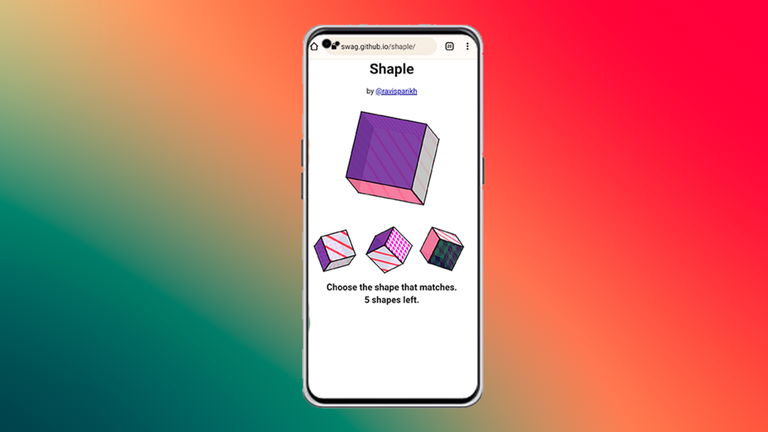 Wordle was a real revolution. Josh Wardle's work arose with the mere interest of entertaining his family at a time as tragic as the COVID-19 pandemic. In this way, after this he had a gigantic success and thousands of applications launched to imitate it with incredibly original postulates. In this case we bring you shapea very interesting version of Wordle and that we can play on our phone or on any other technological support since it is a browser game.
There are a endless games similar to Wordlebut Shaple offers us a very interesting twist. We will have to refine our spatial vision and trust it to get the true result that we expect from it.
How does Shaple work?
Shaple is a game developed by Ravi Parikh, a software developer who is dedicated to entrepreneurship in various start up. In his spare time, he has developed this application and uploaded it to his Github so that we can enjoy it freely. totally free. In fact, he's such a fan of these types of proposals that he conducted a study to determine what was average word length in each country.
The application is very simple to use, but it requires a little concentration to be able to carry out the game as such.
The development is very simple. Four cubes appear, one large and three small that do not stop rotating at any time. Of the last three we will have to guess which one is the one that matches the parent cube. We will have to repeat this on five different occasions trying to get it right on all of them. It's okay if you fail, as the game will encourage you to try again to beat yourself and you won't lose any attempts or anything like that.
Furthermore, like any game that follows the Wordle format, it has very clear conditions, although this time it differs somewhat from what we are used to. For a start, we can play as many times as we want. In this way, we will be able to test our mental capacity whenever we have a dead time, without having to wait 24 hours. On the other hand, when we finish we can share our results but some statistics will not be saved as it happens in the classic Josh Wardle game.
As we have already mentioned, there are dozens of games of this style. Among the favorites is word of countries in which we will have to guess the country simply by looking at its shape and having several attempts. However, there are also other incredibly fun ones, like the pokemon word if we are fans of Nintendo's intellectual property.


Source link

andro4all.com