This edition improves the visibility of the screen and increases the quality of its sensors.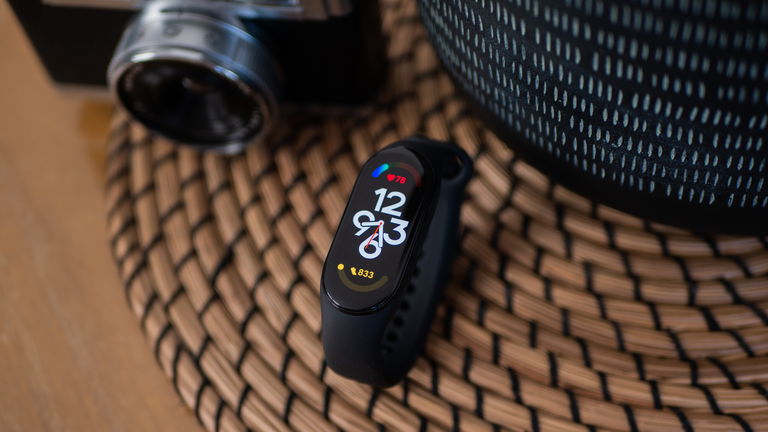 If there is a gadget that every year is located among the 3 best sellers is without a doubt the Mi Band of Xiaomi. Since its first edition it has not stopped selling thousands and thousands of units. The seventh edition landed at a much higher price than usual, but today it can be yours with a historical discount on Amazon.
you can buy today Xiaomi Smartband 7 by 59.99 €47.99while on their official website It continues to maintain its price of 59.99 euros. Is about very careful evolution of all models released to date. It includes a multitude of sports modes and all kinds of sensors that will make your life easier and more controlled.
Buy in other stores:
Buy the Xiaomi Smart Band 7 at a minimum price
There are many reasons to buy a Xiaomi Smart Band 7 today. Before it was mainly the low price it had, but this 7th edition its value has risen somewhat, but also its quality. That's why I want to detail the reasons why it is a good buy at the moment, especially at this historical minimum price:
Your screen grows: this Xiaomi smart bracelet mounts a 1.62″ Amoled panel with high resolution. It has the function always-on, so we can always have it on, showing the minimum data such as the time and date. In addition, you can customize the screen with over 100 free designsas well as use your own image that you want as wallpaper.
For athletes (or not): You don't have to be an elite athlete to use all the functions of this Smart Band 7. It has more than 110 sports modes that you can use in your training or on your outings for a walk. Among them is riding a bike, elliptical bike, walking, running, rowing machine or sports such as surfing, golf or paddle tennis among dozens of others. At the end of the activity you do will send us a summary of all the data collected through its sensors to the mobile.
resist everything: being a device with polycarbonate terminations, it is very resistant to falls. It is also waterproof with the possibility of submerging it at a pressure of 5 ATM, that is, 50 meters deep.
sensors for everything: we have a sensor heart rate, blood oxygen, pedometer, calories burned, sleep control and menstrual period monitoring. On the other hand, we can do breathing exercises to control stress level. At the end of each activity we will have a general assessment in the form of a personal activity index that we will increase as we do sports or any type of physical activity.
An amazing battery: One of the reasons to buy an 'old' Mi Band was its battery life. In this unit we have 14 days of autonomy on a single charge, and 9 days if we make intensive use of it (practically daily training sessions). Of course, it is more than enough autonomy to forget to charge it every night, like your mobile or like the Apple Watch.
One of the best smartbands of the current landscape it's on sale again and now marking its lowest price. If you prefer to make a leap in quality, you can opt for the Xiaomi Smartband 7 Prowith a larger screen and integrated GPS, but its price is already rising to 80 euro. It is a better option without a doubt, but not as compact as the normal model.
For you


Source link

andro4all.com