Using your Android mobile can be much more comfortable with a taskbar. If you have an Android tablet, you will already know its usefulness.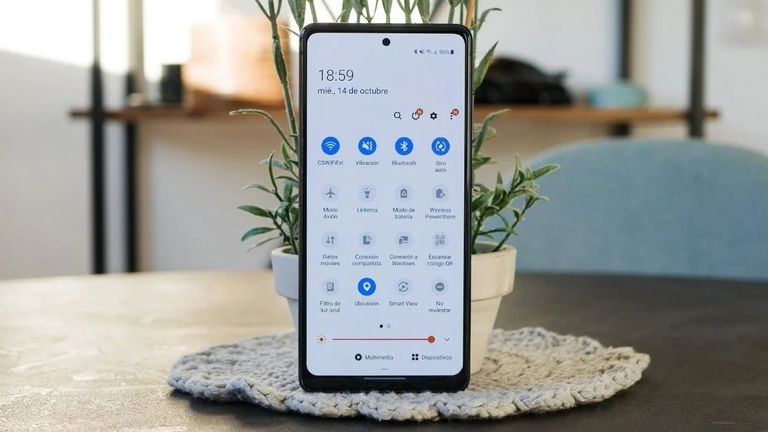 if you have one Tablet with operating system android 12You will know that one of its best functions is the taskbar that appears at the bottom to give us access to main applications. Watch out, because now you can enable this useful taskbar on your Android mobile with a simple trick that we will explain step by step in this article.
This taskbar is specifically designed for tablets and foldable devicesbut thanks to this trick you can also use it on your mobile. It will give you direct access to six apps, including the ones you use most often and others you can pin yourself. If you already use it on your Android tablet, you will quickly master it on your mobile phone.
How to enable the tablet taskbar on your mobile
First of all, to use the taskbar on your mobile you must confirm that this one has android 13. you can enter Settings > Device information to confirm it in a few seconds. Since it is a hidden feature at the moment, you will have to carry out a series of steps to enable it on your phone. They are the following:
1. Activate developer options
The first thing you should do is Activate developer options on your Android mobile. This method gives you access to a series of settings that Android hides natively. Although they are focused on app developers, any user can access these settings. The process is this:
Enter the app settings of your mobile.
Go to the section "Phone Information".
Look for the section called "Build number" and tap six times in a row in it. May also be called "Version Number". After touching six times, the mobile will confirm that the development options have been activated.
2. Change the minimum width
Once the developer options are enabled, your configuration possibilities will be much broader. To use the taskbar on Android tablets we are interested in the option "Minimum width". Its modification will be the one that will make it possible for the bar in question to appear on the mobile. To get it, follow these steps:
Enter the app settings.
Log into "Additional settings".
Go into "Developer Options" or "Developer Options".
Look for the section "minimum width" and write down the number configured by default on a piece of paper, you will need it later. Once saved, change the parameter to 600 dp and tap on "Save".
By changing the min width to 600 dp, the taskbar appears automatically at the bottom of the screen. As you may have noticed, the size of the elements is much smaller than before. you can fix it enlarging both font and display size of the screen from the settings.
As we have commented previously, this taskbar shows you the six apps icon so you can quickly move between them. It is certainly an element that favors multitaskingbecause it avoids us having to access the applications menu or the multitasking window to change apps.
If this trick doesn't work on your Android phone, don't worry. Google is already working for bring the taskbar to mobile phones officially. Therefore, the most normal thing will be that you receive it in future updates and, yes, you can get the most out of it.


Source link

andro4all.com