Thursday, March 2, 2023, 12:57:13 PM, Indochina time

After competing in the program VALORANT Champions Tour 2023: LOCK//IN Sao Paulo time Omega It just ended in a damp way, but the competition was not over yet because we still had to fight in the rounds. playoffs Which now only 4 The last team, which can go to read more details in the final match atthis article
but in addition to skill in controlling the target proficiently and clever plans crosshair suitable for oneself, it is considered one of the factors that answer the question. crosshair also picked up for use by many skilled players from pro player It is also one of the guarantees of success that will help with sharpness even more or less. Plus, it has passed through the hands of actual use. So I can guarantee that it's good for sure.
By today 4 gamers will ask to raise crosshair of a team that is one of the candidates around 4 The last team on the list VALORANT Champions Tour 2023: LOCK//IN Sao Paulo at FNATIC Let's see each other. which if returning to the list VCT Masters 2 Copenhagen The team used to lead crosshair of both players 5 Come out to hit and spread to be seen. But due to the long past, including the players in the current set It has been modified from the original. Therefore causing the need to update the information a bit
get likes @FNATIC!

Check the player's aiming code to get it in the game. #VALORANTmaster pic.twitter.com/IwS8K4SYjs

— VALORANT Champions Tour (@ValorantEsports) July 14, 2022
on the side of crosshair from the player FNATIC It has changed a lot from the original, whether boast and Alphager that seems to have changed to play the inner aim to be bigger than before,go out scaled down Including also disclosed crosshair of two new players like Leo and chronicle to be used by being able to code Below, you can put it inside the game.
Alphager – 0;s;1;P;c;5;o;1;d;1;z;3;f;0;0b;0;1b;0;S;s;0.628;o;1
boast – 0;s;1;P;c;5;u;FF2B52FF;o;1;d;1;z;4;f;0;s;0;0l;0;0v;0;0o;2;0a; 1;0f;0;1t;0;1l;0;1o;0;1a;0;1f;0;S;c;1;o;1
Leo – 0;s;1;P;h;0;0l;3;0v;4;0o;0;0a;1;0f;0;1b;0;S;c;0;s;0.64
go out – 0;s;1;P;u;FFA500FF;o;1;d;1;f;0;s;0;0b;0;1t;0;1l;1;1o;0;1a;1;1m; 0;1f;0;S;o;1
Chronicles – 0;P;c;7;o;1;f;0;0t;1;0l;2;0v;2;0g;1;0o;2;0a;1;0f;0;1b;0
ready to aim @FNATIC?

Copy the code below to your in-game settings! #weekly login pic.twitter.com/NU9t1KfrPS

— VALORANT Champions Tour (@ValorantEsports) February 24, 2023
For those who have never done Import Crosshairs of others before can follow as follows
enter setting
pick a head crosshair
Select the down arrow icon. ( Import Profile ID )
lead code of the players who want to put
press import and then used to shoot sharply accordingly pro player let's go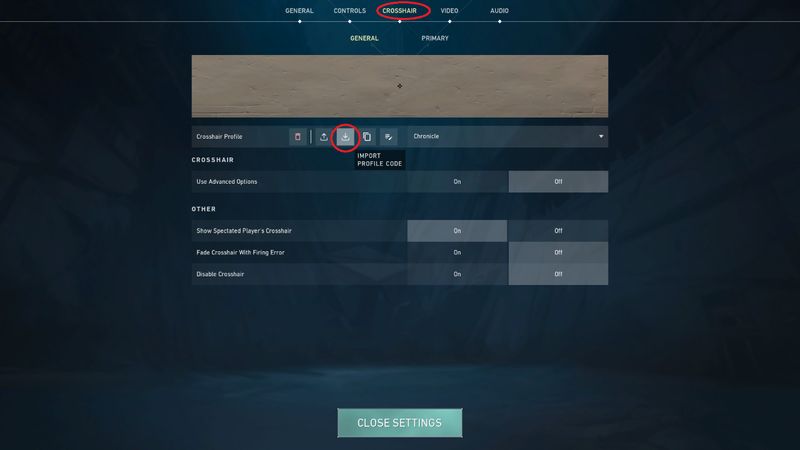 Finally, for those of you who don't feel uplifted. or favorite players on the team FNATIC That much, but I still want it. crosshair Of other players, we have put forward 3 under which the team is in the group of 4 The last team presented which can be accessed as below




Source link

www.4gamers.co.th