Many users have recently been not very happy with the glitches and bugs in Riot games. And one such situation can be seen when users are hit with the error message, You can't sign out while a game is running in Riot games while signing out. This can be quite irritating when in a hurry; therefore, in this article, we are going to see the reasons as well as solutions to this particular issue.
You can't sign out while a game is running. Do you want to exit? (Please close other Riot Games products before signing out.)
What does "Please close other Riot Games products before signing out" mean?
Due to recent bugs in the game, many users are facing the error message which states that related services are going on in the background at the time of quitting the game. And this scenario stops the gamer from closing the game.  There are other genuine reasons as well, such as services working even after closing them, and in the coming session, we are going to discuss this in detail.
Fix You can't sign out while a game is running in Riot games error
If you can't sign out while a game is running in Riot games, then execute the solutions mentioned below:
Sign out of the Riot game
Quit the game from Task Manager
Delete game cache
Repair Valorant or some other Riot games
Contact support care
Let's discuss these solutions in an advanced version.
1] Sign out of the Riot game
Starting the troubleshooting guide with a simple procedure, such as signing out of the game, can save time. If you have meticulously ensured the absence of operational Riot services, then this is the next best step.
Properly sign out of the profile on Vanguard, wait for a few minutes, and then sign back into Vanguard. After the signing-in process is completed, sign out of the Riot games launcher. This should do the job for you.
2] Quit the game from Task Manager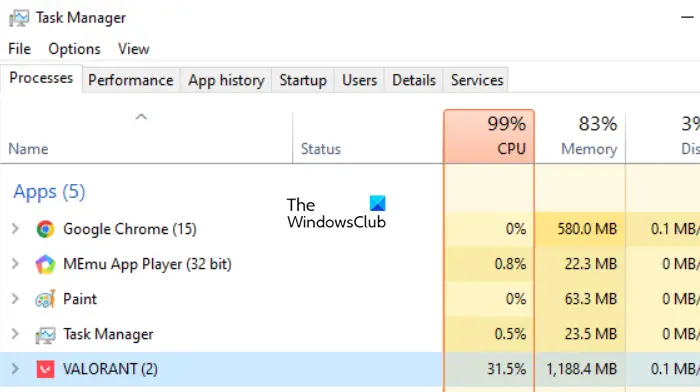 In this solution, we are going to force quit all the tasks of the Riot game and Vanguard launcher. This way, the persistent services that were running in the back, even after quitting them, won't be working anymore.
To do the same, click Ctrl +Esc + Shift together to open Task Manager. Here, click on the Processes tab and try to locate the game. Now, once you find it, right-click on it and then select the End task option. Once this forces all the services to stop working immediately, try to sign out of the launcher, and hopefully, this time, you will succeed.
3] Delete game cache
Well, game caches are known to be notorious after getting corrupted. This is nothing new and is not prone only to Riot games; and it happens with every other game. And when you come face to face with such situations, the only solution is to delete these corrupted caches. Here's how to delete them:
Click Win + R to open the Run dialogue box.
Now, type in %localappdata% and hit the Enter button.
Locate and right-click on the game (example: Valorant) and Riot games folder to select both simultaneously. hold Ctrl when you click on those folders.
Lastly, select the Delete button.
Reboot your PC after doing the steps, and then, once again, start the logging-out process.
Read: How to change Riot Games Username, Password, Tagline, etc.
4] Repair Valorant or some other Riot games
It is very likely that due to some corruption in the game files, the Riot Games launcher thinks that they are still running. That is why you need to verify the Integrity of the Game files to resolve the issue.
Read: How to fix VALORANT login errors and issues
5] Contact support care
Last but not least, if reinstalling the game was unsuccessful in solving the error, reach out to the Riot Games support website. There, lodge your complaint and wait for them to respond to you. They will acknowledge your concern and will walk you through the troubleshooting guide.
We hope that you can resolve the issue using the solutions mentioned in this post.
Also Read: Fix NO INTERNET FOUND Valorant error
Why is my Riot client signing out?
A lot of users are facing the exact opposite of this situation, where they are signed out of their games. There are various common reasons such as inactivity timeout, connectivity issues, authentication problems, and so on. Corrupted caches are also one of the reasons that can greatly affect the gaming experience.
Read: Riot client not opening on Windows 11.


Source link

www.thewindowsclub.com