Some users reported that while playing YouTube videos, the screen goes black in Google Chrome. There are multiple causes of this issue, like corrupted cache, corrupted or outdated graphics card driver, etc. If you see a black screen while playing YouTube videos on Chrome, this article will help you fix the problem.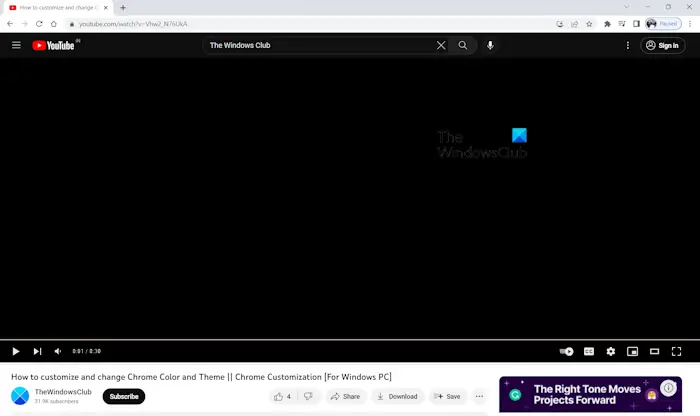 Black screen while playing YouTube video on Chrome
If Google Chrome shows a black screen while watching a YouTube video, first of all, try some general fixes, like closing the video and playing it again or restarting Google Chrome. If this does not work, use the solutions provided below:
Play YouTube videos in Incognito Mode
Disable Hardware Acceleration
Change Graphics Settings for Google Chrome
Change video playback view on YouTube
Update your Graphics card driver
Clear cache and cookies
Reset Google Chrome
Reinstall Google Chrome
Let's see all these fixes in detail.
1] Play YouTube videos in Incognito Mode
The issue might have been caused due to corrupted cache or cookies. To check this open Incognito Mode in Chrome and play a video on YouTube. See if the issue persists. By default, all extensions remain disabled in Incognito Mode. Hence, if an extension is causing the problem, YouTube videos should play fine in Incognito Mode.
If the problem does not occur in Incognito Mode, exit Incognito Mode, and launch Chrome in normal mode. Now, follow the steps provided below:
Type chrome://extensions/ in the address bar of Chrome and hit Enter.
You will see the list of all installed extensions. Disable any one of the installed extensions.
Play a YouTube video and see if the problem persists.
Repeat the above steps until you find the problematic extension. When you find the culprit, you can remove it.
2] Disable Hardware Acceleration
The next thing that you can try is to disable Hardware Acceleration in Google Chrome. The steps to do this are as follows: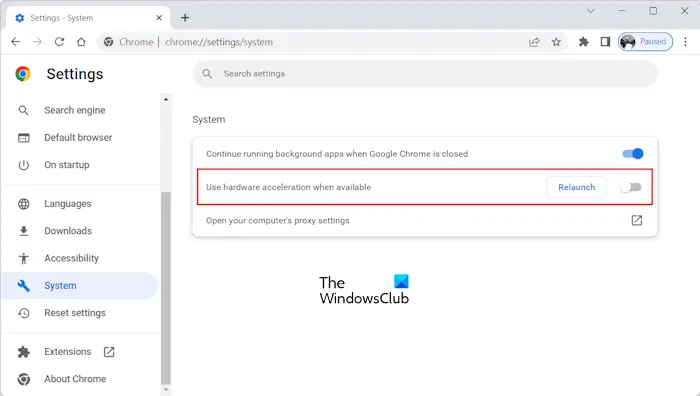 Open Google Chrome Settings.
Select System from the left side.
Turn off the "Use hardware acceleration when available" switch.
You have to relaunch Chrome after performing the above steps. Click Relaunch.
3] Change Graphics Settings for Google Chrome
Changing the Graphics settings for Google Chrome can also help fix this issue. The steps to do this are as follows: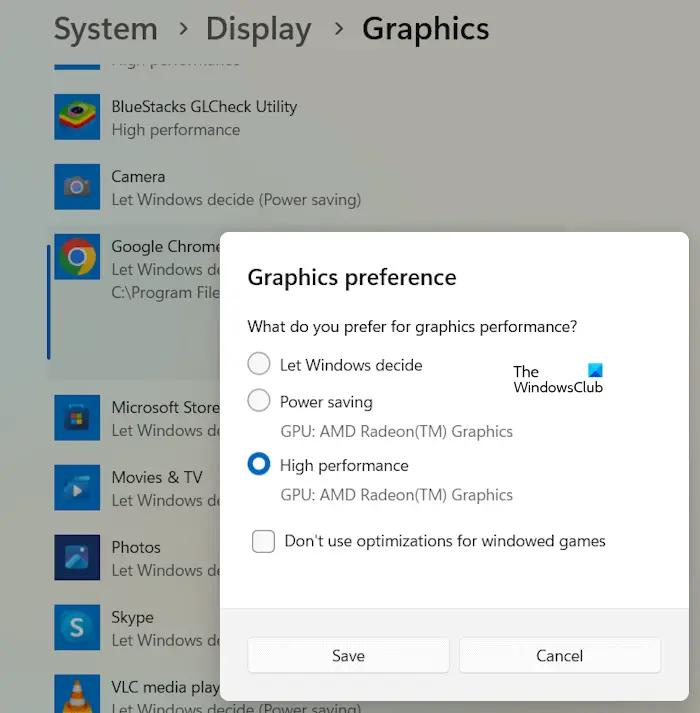 Open Windows 11/10 Settings.
Go to "System > Display > Graphics."
See if Google Chrome is listed under the list of available apps. If not, click on the Browse button and select the Chrome exe file.

You will find the Chrome exe file at the default install location. If you do not know the default install location of Chrome, go to Desktop, right-click on the Chrome shortcut, and select Open file location.

Now, select Google Chrome and click Options.
Select High Performance and click Save.
Now, check if you can play YouTube videos.
4] Change video playback view on YouTube
According to some users, toggling the video playback view mode on YouTube before entering the full-screen mode has fixed the problem. You can also try this. Switch between the Theater Mode and Default View, then enter the full-screen mode.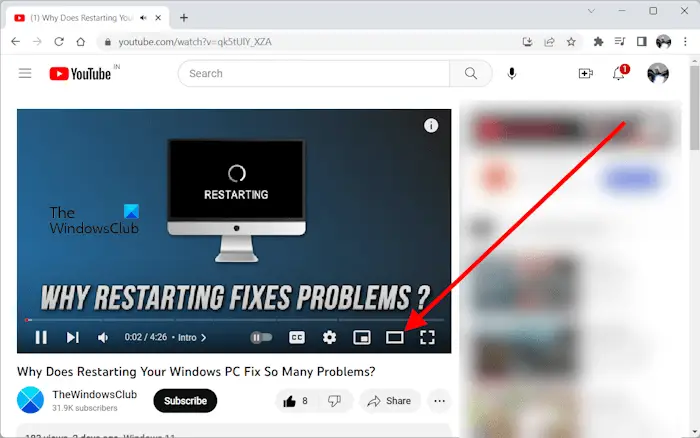 The Theater Mode icon is available just before the full-screen icon. Click on it to enter Theater Mode. Clicking on it again in the Theater Mode will restore the Default View.
5] Update your Graphics card driver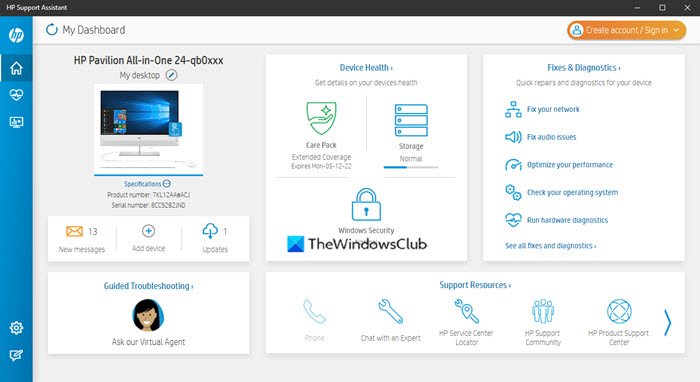 You should update your graphics card driver. You can do so by visiting the official website of your computer manufacturer or by downloading the dedicated software, like HP Support Assistant, Dell SupportAssist, etc., depending on the make of your computer.
6] Clear cache and cookies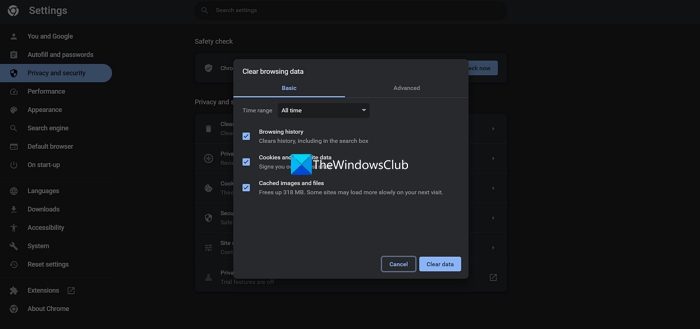 As stated above, corrupted cache and cookies can also cause this type of issue in Google Chrome. Clearing Chrome cache and cookies can fix this issue.
7] Reset Google Chrome
If the problem still persists, reset Google Chrome to default. This action will reset your startup page, new tab page, search engine, and pinned tabs. If you have installed any extensions, they will be disabled after performing this action. Resetting Chrome will not delete your bookmarks, browsing history, and saved passwords.
8] Reinstall Google Chrome
If the issue still persists, we suggest you completely uninstall Chrome and then reinstall it. This fix has worked for some users. To completely uninstall Google Chrome, you can use free third-party tools, like Revo Uninstaller.
How do I turn off black mode on Google?
Google allows users to select Light and Dark themes. The dark theme makes all search result pages black. If you want to turn off black mode on Google, click on the Settings icon on the top right side, and select the Light theme under Appearance.
How do I fix a black screen on Google Chrome?
The black screen on Google Chrome can occur due to a variety of reasons. To fix Google Chrome's black screen, first, restart Chrome and see if it helps. You can also update your graphics card driver.
Read next: Fix White or blank Screen issue in Google Chrome.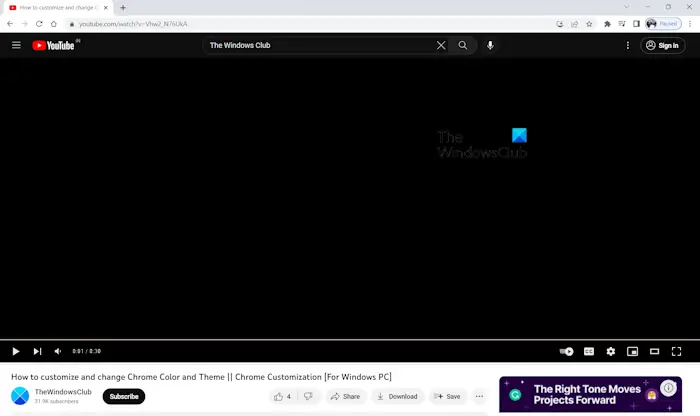 Source link

www.thewindowsclub.com