Cryptoplatform Multichain has undergone the largest hack since its inception
The hackers stole about $125 million in different cryptocurrencies including USDT, USDC, Bitcoin and ETH.
Platform Multichainwhich provides cryptocurrency transfer services between different blockchains, has suspended its work after hackers stole about $ 125 million in cryptocurrency from it.
Multichain was founded in 2020 and has repeatedly called itself a leader in the security, speed and cost of transfers between different blockchains. July 7th company informed that part of the platform's assets "was anomalously moved to an unknown address."
"The team is not yet sure what exactly happened, an investigation is underway. We recommend that all users suspend their use of Multichain services and revoke all authorizations for contracts related to Multichain," the company said in a statement.
A few hours later the company announced that all platform services have been stopped and noted that any transactions across bridges will be blocked on the original chains. And a little later, the following kind of message appeared on the Multichain website, which says that the platform will return the stolen funds to all users.

Allegedly official statement of Multichain
However, in the official Telegram channel of the platform, the administrator under the nickname "David Who" declared that this site is not owned by Multichain. Therefore, this statement can only be considered as part of a malicious campaign directed against the platform.
There were no more news from Multichain at the time of publication of the news, and researchers from various blockchain security companies have already commented on the situation and estimated the approximate damage to the platform.
Company MetaSleuth stated that stolen assets worth more than $120 million were distributed to 6 addresses, and some of them were completely "burned". Company PeckShield attached screenshot showing the amount as 126 million, stating that hackers stole millions of dollars in stablecoins such as USDT And USDCand ETH, bitcoin etc.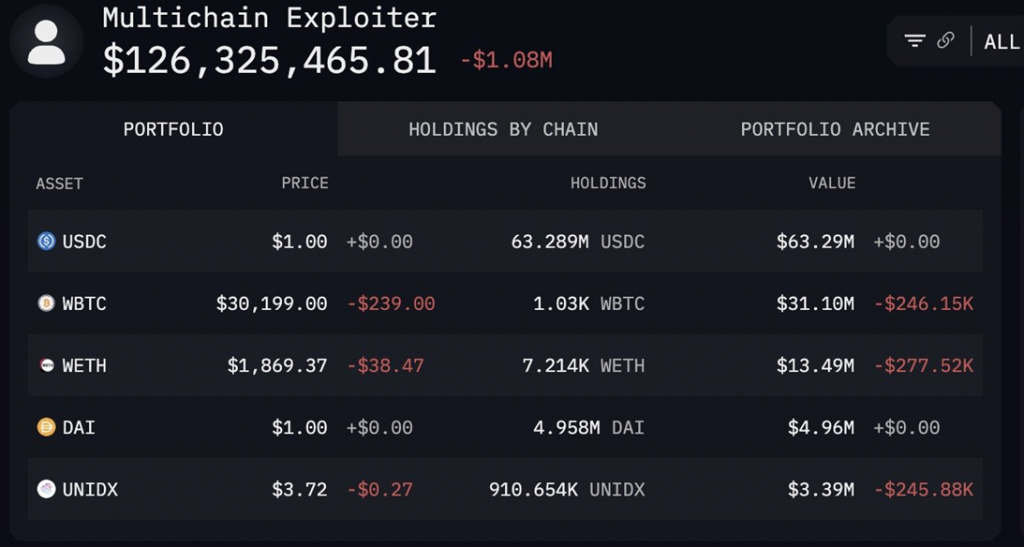 Screenshot from PeckShield
Also there were rumors that the cyberattack was carried out by a white hat hacker in order to test the security of the platform, but it is not yet clear how true these claims are.
Multichain has previously encountered various problems in the operation of its platform and even suspended its operation at the end of May this year. However, she has never completely stopped her work until last week's cyber incident.
Bridges between chains, such as Multichain, continue to be an attractive target for hackers in 2023 after realizing in years past that this is a highly financially lucrative attack vector.
The same PeckShield reported that over the past 3 years, 1.92 billion dollars have been stolen related to bridges between chains. The biggest theft so far has been over $600 million taken from Ronin Network in 2022 and Poly Network in 2021. Wormhole Bridge was robbed of $320 million, and Nomad Bridge And Horizon Bridge lost over $100 million.
Several attacks have been attributed to the well-known North Korean hacker group Lazarus. The stolen funds allegedly served as one of the main sources of funding for the country's nuclear program.




Source link

www.securitylab.ru