Have you ever considered how your Google Pay, Paytm, or PhonePe can be misused once your phone is lost? And, what to do if your phone goes missing, unfortunately? This post will answer your queries.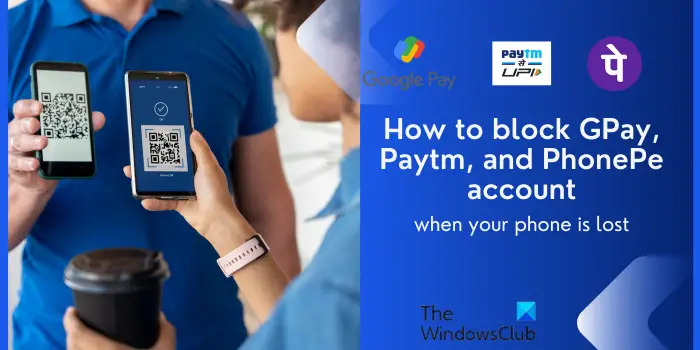 Since the world has almost gone cashless, digital payment services like GPay, Paytm, PhonePe, etc. are rising. UPI (Unified Payments Interface) transactions have seen immense growth over the last few years as per RBI.
Digital payment apps that use UPI IDs like Paytm, Google Pay, and PhonePe are the top apps that can be found on everyone's phones these days. These payment methods are supported by street vendors, small stores, marts, malls, etc.
However, if you have lost your phone accidentally, you are at risk of facing some really bad consequences. The one who has stolen your phone or got his/her hands on your phone can use these apps to spend or transfer your money. Although these digital payment apps come with an extra security layer, advanced attackers can still unlock your account and misuse it. Thus, you must block all these accounts as soon as possible. In this post, we will show you steps to block your account on Google Pay, Paytm, and PhonePe when your phone is lost.
How do I block my UPI ID if I lost my phone?
A UPI ID, which stands for Unified Payment Interface Identity, is a unique ID that identifies you on UPI. It is basically a virtual payment address that is used for online transactions and money transfers via payment apps like Google Pay, Paytm, and PhonePe. To block your UPI ID, you need to block your respective accounts on the apps you are using. Here, we have discussed steps to block your PhonePe, Paytm, and Google Pay UPI. So, check out.
How to block GPay UPI ID when phone is lost
To block your Google Pay account when your phone is lost or stolen, here's what to do:
First, call Google Pay customer care on the toll-free number 1800-419-0157.
Next, choose the correct option to talk to a specialist.
Once connected, provide your account details and follow other instructions to get your account blocked.
See: How to use Amazon Klarna for payment?
How to block PhonePe UPI ID when phone is lost
You can block your PhonePe account if your phone is lost using the below steps:
Call PhonePe customer support on its helpline number which is 08068727374. You can also call on 022-68727374 number.
Once you are connected to a customer support executive, you will be asked to verify your account details. You need to provide the following:
-Registered mobile number.
-Registered email address.
-Last transaction number, type, value, etc.
-Bank names that are linked to your PhonePe account.
-Alternate phone number, if any.
When you provide the above-mentioned details, PhonePe will inquire accordingly and block your account on an immediate basis.
If you get hold of your SIM card or phone number again, you can verify your details and unblock your account later.
Read: What is RuPay payment network of India? How does it work?
How to block PayTM UPI ID when phone is lost
Here's how to block your Paytm account if you lost your mobile phone or SIM card:
The first step is to make a call to Paytm customer care on its helpline number 0120-4456-456.
Now, choose the valid option for the lost phone issue and enter the lost phone number.
After that, select the option to log out of all devices.
Next, follow the instructions to get your account blocked.
Also, it is highly recommended to block your SIM to ensure there is no further misuse of your phone number.
There is another way to block your Paytm account via the mobile app. Here are the steps to do that:
First, open the Paytm app on any Android device and continue without logging in.
Next, tap on the profile icon at the top-left corner and choose the 24×7 Help & Support option.
After that, click on the View All option present under the Choose a service you need help with section.
Now, select the Report fraud transactions option and Paytm chat will open.
You now need to select the My phone is lost/stolen/missing and I want to block my account option.
Once you do that, you will get complete instructions on how you can block your account.
Read: List of best Mobile Wallets in India to Make Online Payments.
I hope this helps!
How do I block a transaction on PhonePe?
If you want to report fraudulent activity associated with your account, sign in to your PhonePe account at https://support.phonepe.com. After that, you can click on the Report a Fraud or unauthorised activity option, provide details on why you want to block your account, follow other instructions, and press the Send button. PhonePe customer care should get back to you in order to complete the process of blocking your account.
Now read: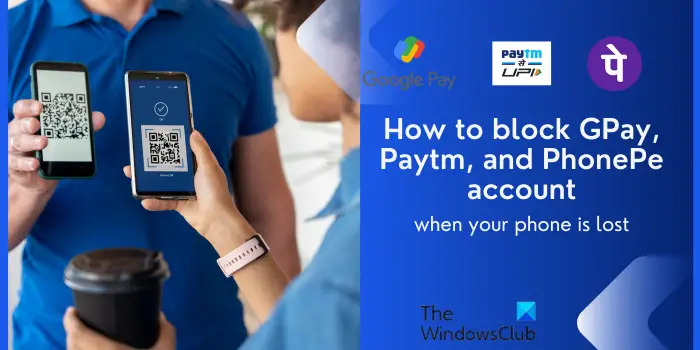 Source link

www.thewindowsclub.com