This post will show you how to get a Receipt from Facebook ads. While advertising on Facebook, you will likely gather and examine receipts for your Facebook ads. They not only help you stay organized and accountable on the financial front but also give you a better understanding of your ad performance.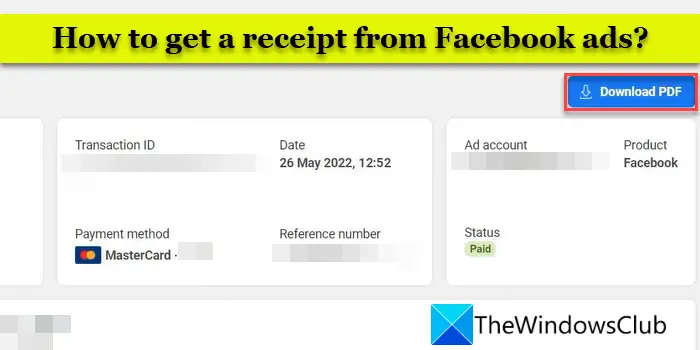 Paid campaigns and advertisements are a great way to reach a target audience on Facebook. Facebook serves your ads on a pay-per-click (PPC) basis, which means every time someone clicks on your ad, you're charged by Facebook. When you make a payment to Facebook, you get a receipt that contains details of your transaction, such as your ad account ID, tax invoice ID, payment method, the reason for billing, campaigns on which money is spent, etc. If you want to know how to find and download these receipts, keep reading further.
How to get a Receipt from Facebook ads?
You can find and get a receipt for your Facebook ads from the Facebook billing area. The receipts are available for individual ad charges, or for all ad charges that occurred within a selected date range. However, you need to be an admin of the account to manage billing information and access these receipts.
Having said that, here's how you may download your Facebook ad receipts:
Log in to your Meta Business Suite and click on the More tools option in the left panel. Select the Billing option.
If you're using Business Manager, click on the hamburger icon on top of the left panel and select Billing under Manage business.
You have now entered the billing section.
1] Download a Facebook ad receipt for an individual transaction
Click on the Date dropdown in the top-right corner of your transaction list and select the date range during which the transaction occurred.
A list of transactions made during the selected date range will show up. Locate the transaction for which you want to get the ad receipt.
Click on the download icon next to the transaction under the Action column. The receipt will be downloaded in PDF format.
Alternatively, you can click on the Transaction ID to go to the transaction details page and download the receipt from there.
2] Download a Facebook ad receipt for multiple transactions

If you want to download a consolidated ad receipt (for more than one transaction), display the list of all transactions by selecting the date range on the billing interface.
Then click on the Download dropdown in the top-right corner of the transaction list. You will see three options:
Select the Download All Transactions (PDF) option to download a single ad receipt for all transactions.
Select the Download Report (PDF) option to download the billing report (a summary of all receipts) as a PDF file.
Select the Download Report (CSV) option to download the billing report as a CSV file.
This is how you can get a receipt from Facebook ads. I hope you find this useful.
Also Read: How to manage Facebook Ad Preferences & opt out of Ad Tracking.
Does Facebook send receipts for ads?
Facebook issues receipts for all payments you make toward your Facebook ad campaigns. These receipts are available under the Billing section of your Facebook Ads Manager. They can be downloaded for individual transactions or for multiple transactions that happened within a selected time frame.
How do I get an invoice from Meta?
If you're using monthly invoicing to pay for your Facebook ads, you can download the invoices from the Invoices section of your Business Manager. On the Invoices interface, select a date range using the Date dropdown. Invoices issued during the selected period will show up. To download individual invoices click on the download icon under the Action column. To download all invoices, click on the Download all invoices button.
Read Next: How to Turn Off Political Ads on Facebook and Instagram.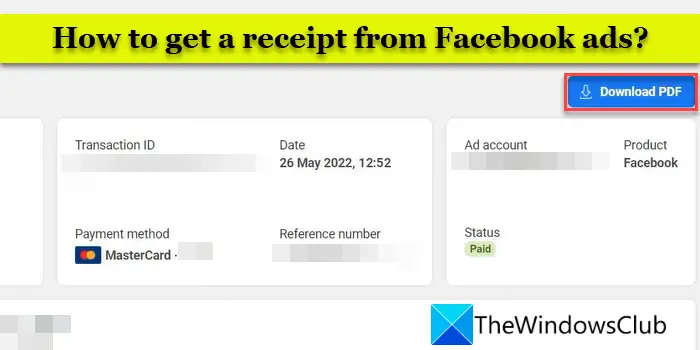 Source link

www.thewindowsclub.com