Discord wants to capitalize on its success and in that quest they have released a subscription model called "Nitro". This will grant new advanced features that are not available in the basic version of Discord. In this post, we will discuss what is Discord Nitro and whether should you buy it.
What is Discord Nitro?
Nitro is a membership plan launched by Discord that grants new features to its users. With this, they won't just enjoy additional perks but also has an option to upgrade their server.
There are two plans in Discord Nitro in the following hierarchy.
Discord Nitro: It costs $9.99 per month and $99.99 per year.
Discord Nitro Basic: It costs $4.99 per month and $49.99 per year.
The main difference between these two subscriptions is that the Nitro Basic is a trimmed-down version of Nitro. In the Basic version, you won't get a 500MB upload limit, 2 server boosts, server avatars, and the global availability of stickers.
What are the features of Discord Nitro?
Discord needs to justify the need for a paid subscription and they sure have tried doing the same by packing exclusive features that will appeal to its users. Following are the perks that you get with Discord Nitro.
Animated Profile and Avatar: In Discord Nitro, you get an option to set an animated profile. So, if you want to set GIF as your profile or avatar, you need Discord Nitro. Not just that, you can also set a video to your profile. This will make your profile more pleasing.
Tailored Server Profile: If you are a Nitro user, you can make use of a server profile. You can pretty easily tailor your server profile and customize it to make the profile as per your needs.
High-Definition Streaming: One of the things that frustrate me is that we can not stream more than 30FPS 720p video. But with the help of Discord Nitro, we can stream 4k 60FPS content. This is especially useful when you want to stream Netflix on Discord.
Server Boost: Server Boost is a feature that adds extra features to your arsenal. With this, you get a lot of emoji slots, more refined audio, etc. With Nitro, you get 2 Server Boosts that you make use of. Do keep in mind that, you won't get the Server Boosts with the Nitro Basic plan.
Custom Username: With the help of the paid version, you can set a custom number in your tag that in the unpaid version is selected randomly. Since the tag number is half of your actual username, we can say that you can have a custom username.
Higher Upload Limit: If you go for Discord Nitro, you have the privilege of uploading files of up to 500 MB. This is one of the biggest reasons why someone will go for the membership as this is a lot higher than what we get in the free version, which is 8 MB.
These were some of the best benefits of Discord Nitro, but there are other hidden easter eggs that you will get to know once you start using the service.
How to get Discord Nitro?
It is pretty easy to subscribe to Discord Nitro, just follow the steps mentioned in this section and you will be good to go.
Follow the steps mentioned below to get Discord Nitro on Computer:
Open the Discord Desktop or go to Discord.com.
Click on the cog icon to open User Settings.
Now, go to the Nitro tab and select a plan for yourself. You can then follow the on-screen instructions to complete the task.
Follow the steps mentioned below to get Discord Nitro on Mobile: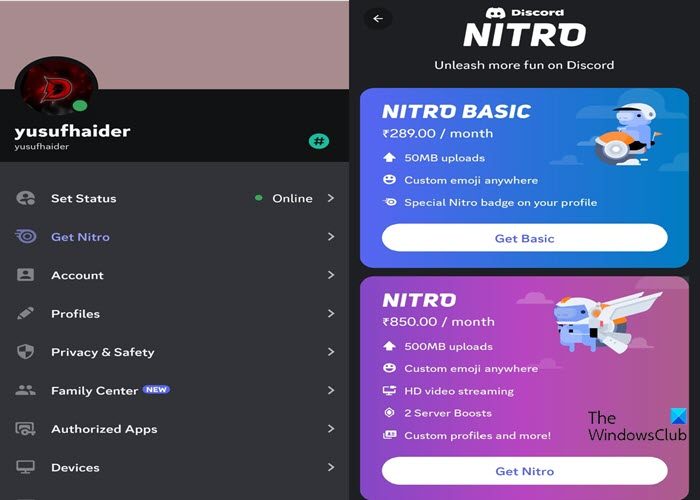 Open the Discord app on your computer.
Click on the Profile icon.
Now, go to Get Nitro and then select a plan.
This will do the job for you.
Should I get Discord Nitro?
Depending on who you are, you will or will not be able to justify buying Discord Nitro. If you are someone who switches between multiple servers, you should go with Nitro. However, if you are just a normal user who wouldn't need 500 MB of storage or other additional perks, you should skip the Nitro or go with the Nitro Basic plan.
That's it!
Read: What is NSFW Discord Server? How to Block or Unblock it?
How much is 1 year Nitro Discord?
For one year, you need to pay $99.99 to get Discord Nitro and $29.99 to get Nitro Basic. If you think it's too expensive, you can even go with a monthly subscription. As that would cost you $2.99 for Basic and $9.99 for Nitro.
Read: How to change Font Style on Discord?
Is it worth buying Discord Nitro?
To answer this question, you need to first check what you use Discord for. If you want to switch between multiple users or actually need all the perks that come with the subscription, sure enough, go for it. However, if you are skeptical, go with the Basic plan and see if you find it useful. Then, you can upgrade to the more premium Nitro.
Read: Can't install Discord; Discord Installation has failed on PC.


Source link

www.thewindowsclub.com