Microsoft has gradually started implementing ChatGPT capabilities into its products, starting with the Bing search engine. It is now time to implement those capabilities into Windows 11. In this guide, we explain to you what Windows 11 Copilot is, how to download and install it, the features of Windows Copilot, and how to disable or remove it.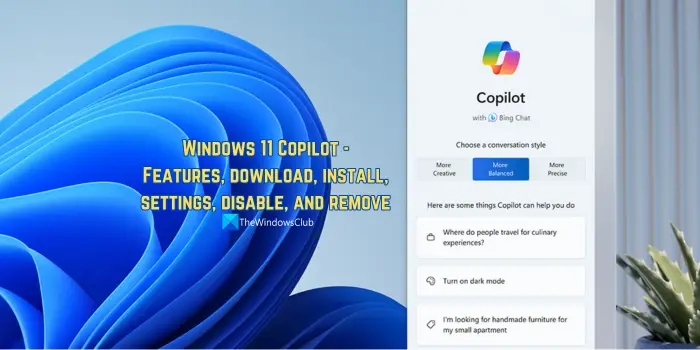 Let's see what Windows 11 Copilot is, what you can do with it along with other details of it.
What is Windows 11 Copilot?
Copilot on Windows 11 is an artificial intelligence assistance feature with generative capabilities. It works with Microsoft 365 applications and services too. Microsoft has integrated Copilot into Windows 11 to give more convenience to the users, thereby increasing productivity and creativity. Copilot comes with Bing Chat features and you can use the Copilot to get answers to your queries from the internet change settings or enable features without actually opening the applications on your PC. You need to enter the prompt on Copilot to do various things with it. You can use Windows 11 Copilot to adjust settings on your PC, organize windows with Snap Assist, etc.
Windows 11 Copilot is added with Windows 11 2023 Update, and you can access it directly from the taskbar. It is currently free to use and do various things. Microsoft will add more features with future updates and make it more robust and user-friendly with more and more capabilities.
How to download and install Windows 11 Copilot?
Windows 11 Copilot is automatically added to your Windows 11 PC with the Windows 11 2023 Update. Go to Settings on your Windows 11 PC and Check for updates. If the Windows 11 2023 Update is pending to install, proceed with its download and installation. After completing the update, you will find the Windows 11 Copilot button in the Taskbar. Click on it to open and use it.
What are the features of Windows 11 Copilot?
Some of the important features of Copilot on Windows 11 are:
Centralized AI Assistance: Copilot is the first AI feature that is integrated into the operating system to provide AI capabilities to us while using the PC. We can use the Copilot to open programs, adjust settings, organize windows, etc.
Bing Chat Integration: With Copilot, you can directly search for our queries which we normally do on Bing Chat in the Edge browser. You don't need to open the Edge browser. Just open the Copilot on the taskbar and enter your query to get answers from Bing Chat.
Real-Time Answers: Unlike ChatGPT, you can get real-time answers for your queries on Copilot powered by Bing Chat. You will get the up to date answers for everything you want to know.
Available on Windows 11 for free: To use Copilot on Windows 11, you do not need to pay a single penny. All you need to have is an up-to-date Windows 11 PC and a reliable internet connection.
Microsoft will add new features like image generative capabilities and some other features into Copilot on Windows 11 with the coming updates and make it more powerful with generative capabilities.
Read: How to use MaxAI.me Copilot extension?
How to disable or remove Copilot on Windows 11?
You can remove Windows 11 Copilot from the taskbar in the Settings app on your PC. Go to Personalization, and select Taskbar. In the Taskbar items, you will find Copilot (preview). Toggle the button beside it to remove Copilot from the taskbar.
To disable the Copilot on Windows 11, you will need to do it in the following ways.
Via Local Group Policy Editor by enabling the Turn off Windows Copilot setting in the Windows Components.
Via Registry Editor by Creating a New DWORD file on the name TurnOffWindowsCopilot and setting 1 as its Value data. The new DWORD file should be created in the following path. HKEY_CURRENT_USER\Software\Policies\Microsoft\Windows
I hope this guide helps you understand Windows 11 Copilot and use it.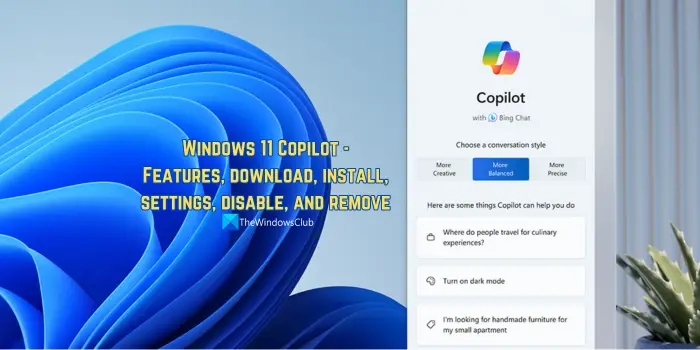 Source link

www.thewindowsclub.com