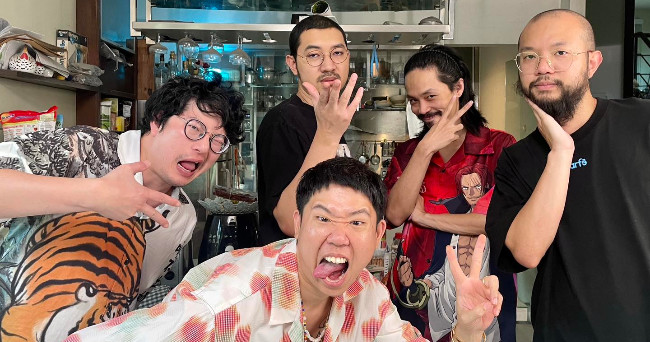 Tuesday, May 23, 2023 at 4:53:49 PM, Indochina time.

if talking about influencer or content creator The famous name of Thailand would be inevitable in the channel. YouTube famous as production of russab which will be a channel that focuses on doing activities with friends and various travel, with the beginning of the channel being created with former team members from vrso Consisting of Priroj "George" Kasemsarn, Issara Hata and Mingboon Hata, comes with a selling point in terms of interesting content and full editing.
By going back when the period 3 last year on the channel production of russab Has opened a new project under the name " covid diary "Which is in the situation of COVID 19 not very good at fighting therefore making the team get property production Cancellation of working in the company Ready to open the project to post a video in the form of a daily lifestyle non-stop and is considered one of the challenges that the way top executive of the company eraser production For example, Mr. Priroj "George" Kasemsarn has set a goal to try it because it feels interesting and should be fun.
after the list " covid diary " proceed to 100 The team part production of russab Decided to take a break from filming such programs to plan and prepare again until arriving May 23, 2021 The team has decided to open a new channel called Subdar7 Ready to announce the video in the form of vlog daily life By running the program with two main spearheads, Preerot "George" Kasemsarn and Isara Hata, creating various contents to be watched in each episode.
But after the list Subdar7 proceed together over 2 season total 730 The team part get property production Has come out to announce the termination of clip filming vlog As mentioned, after moving on for more than a period of filming. 2 full year until making many fans who have watched them feel grateful and sad as well
Most recently a few hours ago Although the channel YouTube of Subdar7 will announce the termination of the video vlog But it seems that the team will not stop filming the program completely. Because the team has decided to change the program format from vlog longer than 10 minutes in the form of short short instead
However, it has not been revealed that short Will it be posted to be watched every day like the previous period or not? but from the title of the video which has been inserted after the original date, there is a possibility that short This may continue indefinitely, but the length may not be comparable to the original. have to wait and follow each other that in the future Subdar7 Will there be an announcement to continue in Season 3 for fans to come back to watch again or not? We have to wait and see.


Source link

www.4gamers.co.th